Explore INDIA
We are tour operators based in New Delhi, India. We design your holiday tour based on your requirements. These will be your individual self-paced tours.
All Tours
Contact Us
Experienced Travel Professionals
Travel Passion Inc. is recognized and affiliated with India Association of Tour Operators, Association of Domestic Tour Operators and Government of India.
Over the last two decades, we are running the Travel Passion Inc. and working with some of the passionate people in the Industry.
Feel free to contact us for your travel requirements.
Flexibility to Choose
We give full flexibility to our clients to choose from the wide range of hotels, resorts, and destinations.
Explore with our tour guide assistance, sharing the rich cultural history of the destination, Or explore independently at your pace, Or just chill by the beach or pool.
We hand-craft our tours in a manner that you don't miss out the key landmarks and highlights of the destination.
Value for Money
Travel can be expensive at times, if not planned well ahead of time.
At Travel Passion Inc. We ensure that you get the best value for your money and that's why we regularly keep in touch with the hoteliers to get best offers the most competitive prices.
A Year to Six months ahead of your vacation is the ideal time to get some good deals.
24 x 7
All our groups or individual clients have a dedicated single point of contact at all times for supporting any sort of logistics.
This is support is for all of our customers, irrespective of their choice of travel packages.
Ayurveda & Backwater: Tour to Kerala
6 Nights / 7 Days – 2018-19
New Rates for April 2019 till March 2020 coming soon.
This opens in new window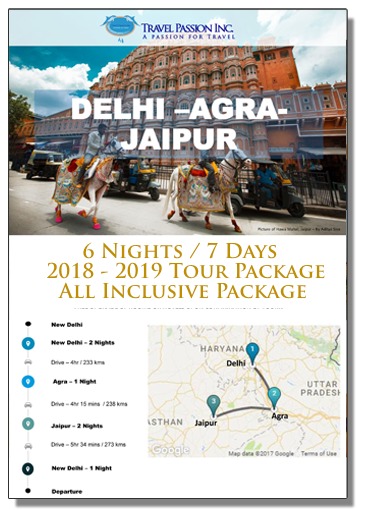 Delhi – Agra – Jaipur
6 Nights / 7 Days – 2018-19
USD $1740 onwards
This opens up in a new window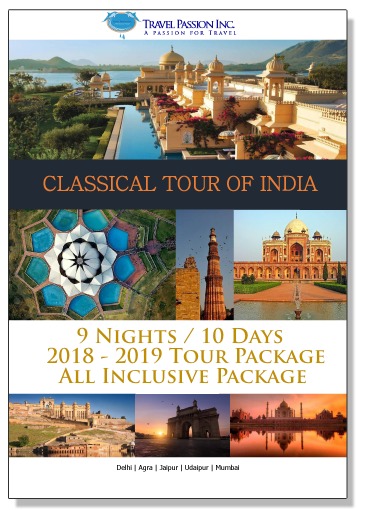 A Perfect Blend of Timeless and Modern India
The Timeless Beauty of INDIA:
Delhi – Agra – Jaipur – Udaipur – Mumbai
9 Nights / 10 Days – 2018-19
USD$ 1879 onwards
This opens up in a new window
Need Help in Holiday Planning?